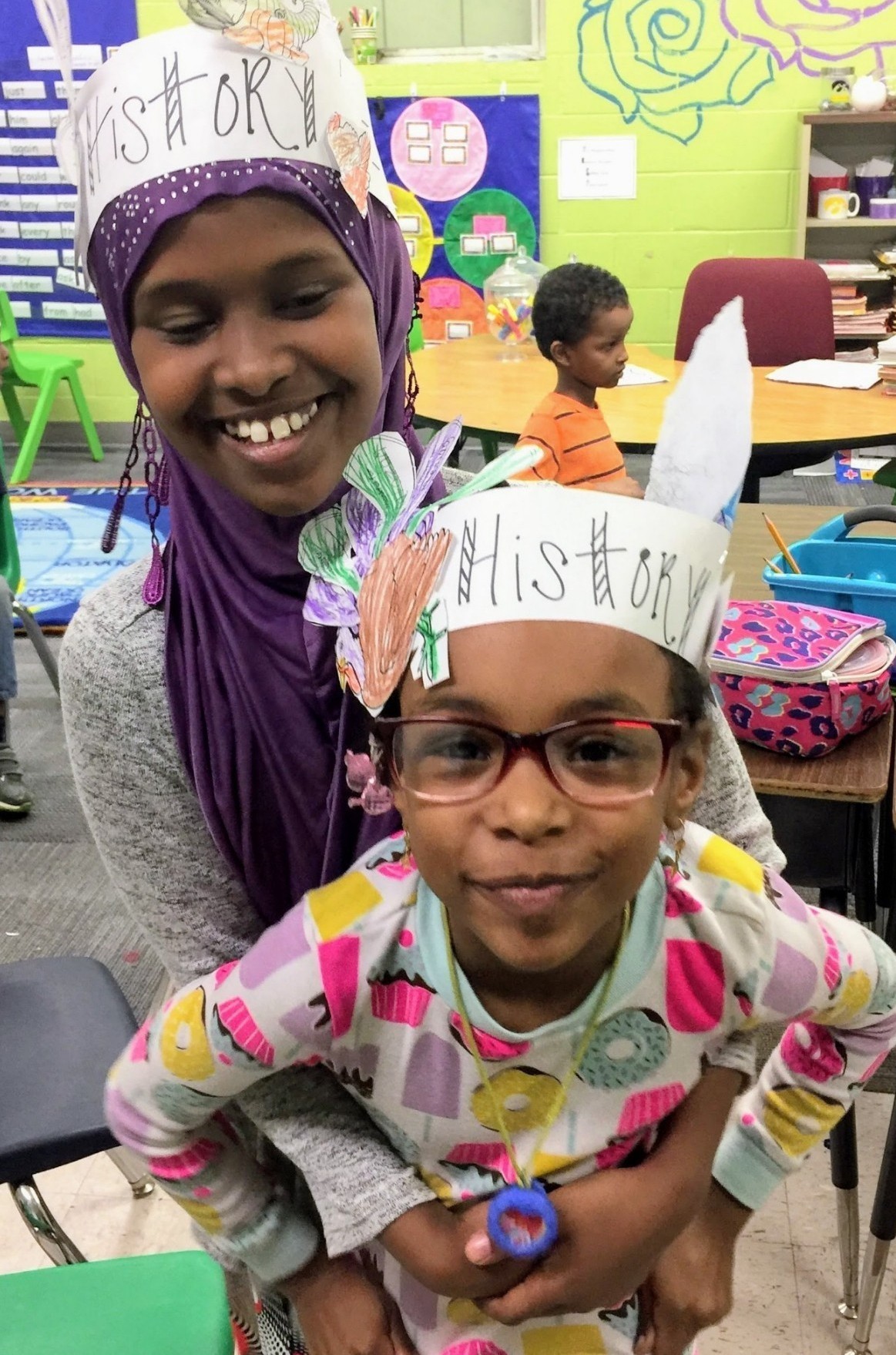 AlRazi Academy School provides Muslim children with the following advantages and benefits:
Strong Islamic values,

Small classes,

High academic standards,

A comprehensive curriculum,

Committed and Certified teachers,

And most important an Islamic environment where they can learn and grow as Muslims.
In this way, Insha-Allah, we will produce young men and women who are well taught Seismically, well-trained morally, and well-prepared academically. The school invites you to become part of the Islamic school in Des Moines. If you are looking for a quality and affordable education that centered on high academic and Islamic standards, then ARA should be a part of your child's future. No greater gift can be given to a Muslim child than the gift of an Islamic education.
The Program is open to all families regardless of race, religion, color, sex or national origin.

At AlRazi Academy, we place great importance on the strength of our academic program.
Early Childhood and child care Programs:
Children at AlRazi academy preschool and child care programs receive opportunity for the developmentally appropriate activities to prepare them for reading, math, and science. Language activities are integrated throughout all academic and play activities. AlRazi Academy has partnered with the United Way Early Childhood Resource Team. The Early Childhood Quality Improvement Project goal is to help programs achieve a level of quality that supports the development of all children and puts them on track with their peers when entering kindergarten. The support team consists of a coordinator, center consultants, literacy consultant, mental health consultants, and child care nurse consultants. Click here to learn more about our Preschool and Child Care program
Full Time Elementary & Middle school,


ARA Full time Islamic school – that includes 1st-8th grade and Kindergarten. Our purpose in starting the Full Time School was to educate our children Islamic etiquette, good moral values, Quran, Islamic Studies, Arabic language and the so-called secular subjects of language arts, mathematics and science.
curriculum follows the State of Iowa framework and uses state adopted textbooks. It provides young learners with a solid educational foundation in the language arts (reading, creative writing, handwriting, English grammar), mathematics, science, and social studies.
Students at ARA receive additional benefits in their education from the school. ARA students enjoy an enriched and integrated value-based Islamic curriculum which teaches the language of the Qur'an (Arabic), and the practical values and etiquette of our faith. There is a specific instruction time for Arabic/Qur'an and Islamic Studies. We also have arts & crafts, painting, physical Activities and computer.
Our elementary and middle grade students take the annual Iowa State Test in the addition to the reading and math test every trimester by Des Moines school districts Liaison. Alhamdolellah most of Our students rate 1 to 2 years ahead of the national norm.
What oversight we get from the state, including help from the AEA?
Our school adheres to all required safety regulations and facility rules setup by the state that applies to any educational institutions in Iowa state. Our school is not an accredited school which leaves a small window for resources that we can get from the school districts therefore we strive to provide all the resources we need to be on the same track with West Des Moines Schools curriculum resources and mapping. We get more visits and support from Des Moines Schools district and Heartland AEA is a wonderful resource we reach up to help us throughout the year and connect us with individuals to help.

Enrichment:

ARA School offers a variety of enrichment activities to supplement the main core of our academic program. These include but not limited to:
Computer Lab
Library
Quran Competition ( State wide)
Islamic Art Competition
Arabic and English Spelling Bee
Science Fair
Arabic Day
In school presentation
Field Trips
Prayers ( Salah) at ARA MUsallah Including Friday Prayers
Community involvement and activities
Staff:
Our school has qualified and competent teachers to ensure high academic standards. Our pre-school and child care teachers are experienced and trained. All elementary and middle school teachers are experienced and hold full academic degrees. The high ratio of adults to students encourages the best in teacher competency. Each of the teachers bring energy, enthusiasm, and dedication to the program.
ARA is striving to extend this program into a full-fledged Islamic school when an opportunity becomes available; Insha'Allah, some time in future and this can be accomplished with the help of Allad (SW) First Then your help and commitment
Enrollment and Pre-Registration:
Pre-registration of students is advised for all interested parents. This allows the school to determine the class size for the coming year, to ensure the availability of teaching resources and recruitment of appropriate teaching staff.
A visit from one or both of the parents and the child is required before enrollment. ARA accepts applications from all candidates without discrimination as to race, color, creed, national origin, or religion. For further information please see the pages in the Admissions section of this site

ARA offers enrollment for according to eligibility and space availability. When enrollment is filled, a waiting list will be maintained by the school. Returning students and Students with enrolled siblings if qualified will have enrollment priority based on school board decision .
Hours

Preschool and child Care : 6:30am – 6:30pm
Circle time: 9:00am
Class instruction: 9:15 am – 2:00pm
Elementary & Middle Grades: 8:30 am -4:00 pm
Class instruction: 8:30 am – 4:00 pm
Extended care is available for school students between 7:00am – 8:20 am and
between 4:00 pm – 5:30 pm for additional fee
Pre-registration should be completed before enrollment. The pre-registration fee is $80 – non-refundable.
Please contact the school office for Details at 515-255-0220 or email alraziacademy04@gmail.com

Parents Responsibilities
1. Please dress you child/children appropriately according to the season and daily weather forecast.
2. If your child is sick, please keep him/her at home for at least 24 hours after he/she has recovered.
3. Please label your child's jacket, shoes (especially if they have the same color and size as another child in school) so that they do not get exchanged.
4. Please check your child's mailbox and/or pack bag daily, when you drop off or pick up your child.
5. Please make it a point to read all notices posted on the door outside for different events and occasions taking place at NHA.
6. Shoebox with an extra set of clothes for every child should be available at all times. Especially a pair of underpants, pants, and socks. If your child does get changed due to an accident, please make sure you supply an extra set of clothes the next day.
7. Please send a pair of bathroom slippers for your child/children to be kept at school.
8. Please supply us with all correct and updated information regarding your mailing address, e-mail, phone numbers, and emergency numbers.
9. Please specify precisely and clearly about any allergies your child has to any food or other products.
10. Please be advised that if any medication you want the teachers to give to your child, the office and your child teacher has to be notified in writing along with the medication information, you will be asked to fill the medication form for that purpose.
11. If you send lunch in a paper lunch bag, kindly label the bag with your child's name.
12. All concerns and suggestions from parents regarding the staff, school policies and procedures should be personally directed to the school Principal/ director Ihsan Yaseen: ihsan@mynewhorizonacademy.com or chairperson of the ARA School Board. Phone numbers, 515-988-1037.